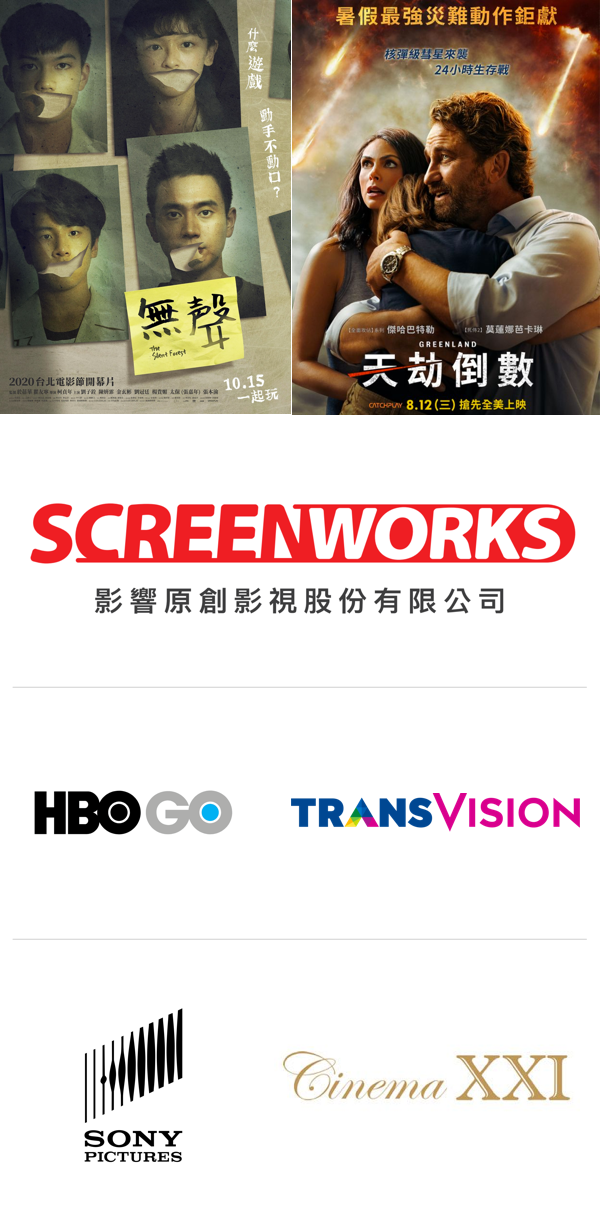 2020
DISTRIBUTION
October
Released Taiwanese local production, The Silent Forest which received 8 nominations and 2 awards at the 57th Golden Horse Awards and grossed 50M NT ($1.8M US).
August
Released Hollywood disaster movie, Greenland in Taiwan ahead of other territories and grossed 80M NT ($2.8M US) during the COVID-19 pandemic.
DIGITAL & INVESTMENTS
December
Announced partnership with SONY Pictures as the only streaming service in Indonesia with SONY's current blockbuster movies available for transactional video on demand.
October
Reached agreements with Indonesia's local distributors including PT. Prima Cinema Multimedia, distribution affiliate of the Cinema XXI Group, and CJ Entertainment to premiere 11 highly-anticipated films directly on the CATCHPLAY+ streaming service as theaters remained closed.
Premiered movies included Peninsula, Steel Rain, Deliver us from evil, The closet, Teen Spirit, Official Secrets, The Professor, Endings Beginnings, Host, The Cleansing Hour and Dew.
August
Announced SCREENWORKS Asia, a joint venture with Taiwan government's National Development Fund managed by the Taiwan Creative Content Agency, to produce premium original content for international markets.
July
Announced collaboration with Warner Media for a HBO GO branded section on the CATCHPLAY+ platform allowing subscribers in Taiwan to stream all content within both the CATCHPLAY+ and the HBO GO services under one account and one package.
Completed the assessment of Trusted Partner Network and received the globally recognized TPN certificate for OTT platform security.
June
Kick-off of partnership with local leading foods brand, Bakmi GM for bundled promotion between its take-away meals and the CATCHPLAY+ service at Jakarta's first MRT.
April
Announcement of partnership launch with Indonesia's local pay TV operator, TransVision, for bundled sales of between CATCHPLAY+ service and TransVision's Xstream Box.
February
CATCHPLAY+ Indonesia exclusively premiered iconic local blockbuster Bebas.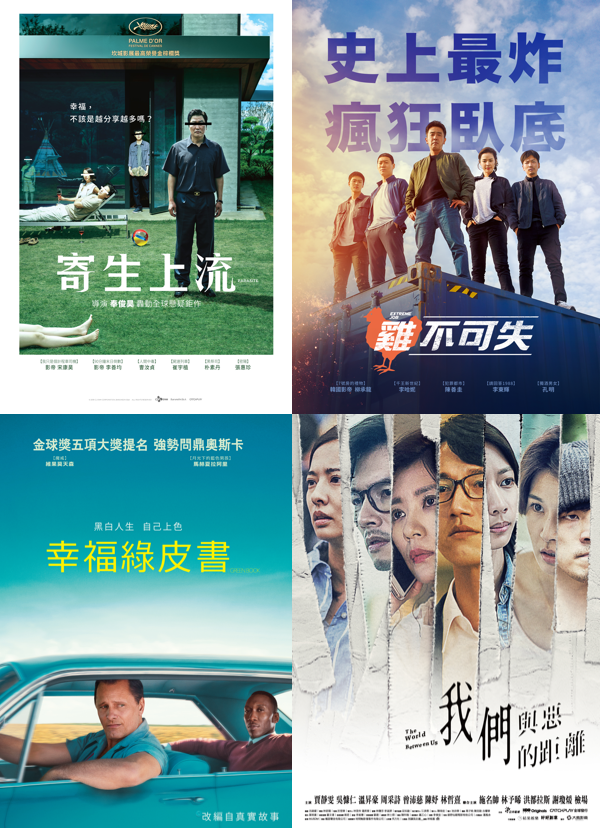 2019
DISTRIBUTION
June
To release Parasite, the first ever Korean movie to win Palme d'Or at Cannes Film Festival.
February
Released South Korean blockbuster Extreme Job which grossed 110M NT ($3.5M US) in Taiwan
January
Released Academy Award and Golden Globe Best Picture Green Book grossing 45M NT
DIGITAL & INVESTMENTS
March
Co-released The World between Us, CATCHPLAY's first drama series project with Public Television Service and HBO Asia. The World between Us became a phenomenal success receiving rave reviews, historically high TV ratings and on-line viewership and deemed as "the best mandarin-speaking drama series over the years".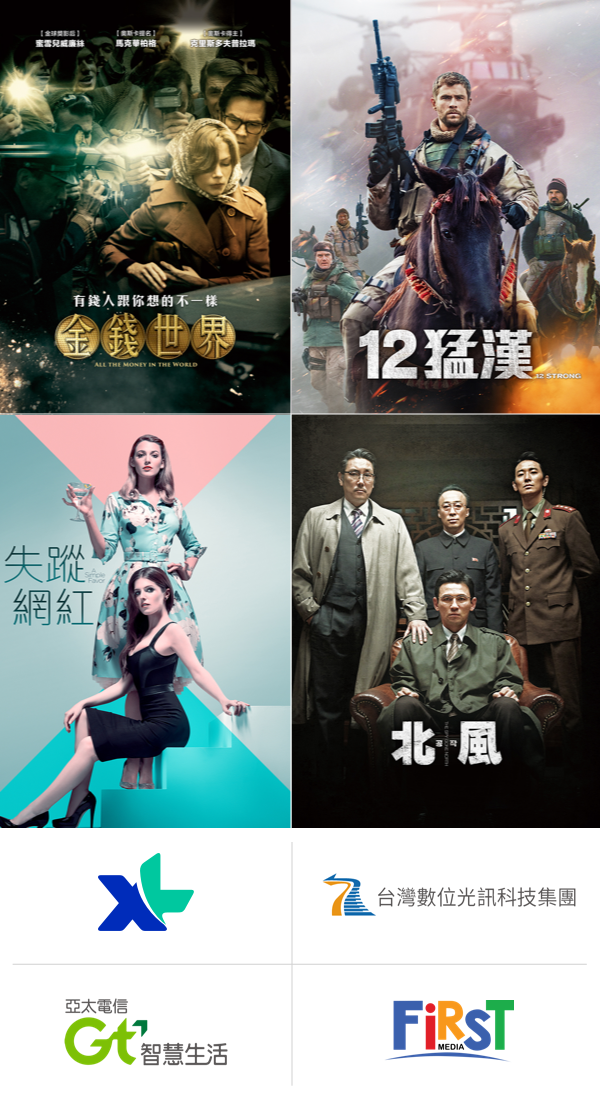 2018
DISTRIBUTION
Released 26 films theatrically, including Academy Award and Golden Globe nominated All the Money in the World, along with 12 Strong, A Simple Favor, and The Spy Gone North.
DIGITAL
August
Entered into collaboration with XL Axiata, one of Indonesia's leading telecom operators for the launch of its high speed home broadband service. CATCHPLAY has been one of its major content service partners with the TV app preloaded onto XL HOME's OTT set top boxes.
June
Announced partnership with Asia Pacific Telecom (GT Mobile), one of the leading 4G mobile operators in Taiwan, to provide CATCHPLAY+ as the primary digital movie content service to APTG subscribers.
May
Kicked off partnership with TopMSO, a leading MSO in mid Taiwan for preloading the CATCHPLAY app onto TopMSO's newly launched hybrid set top boxes.
April
Launched partnership with First Media, Indonesia's premium payTV and Internet service operator as its predominant movie content service partner and the only OTT service bundled into the operator's payTV and broadband packages.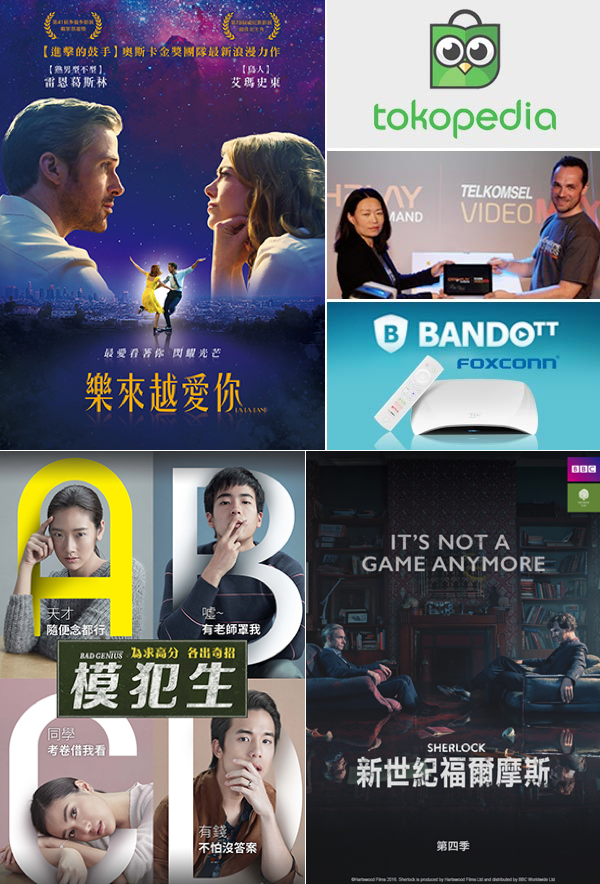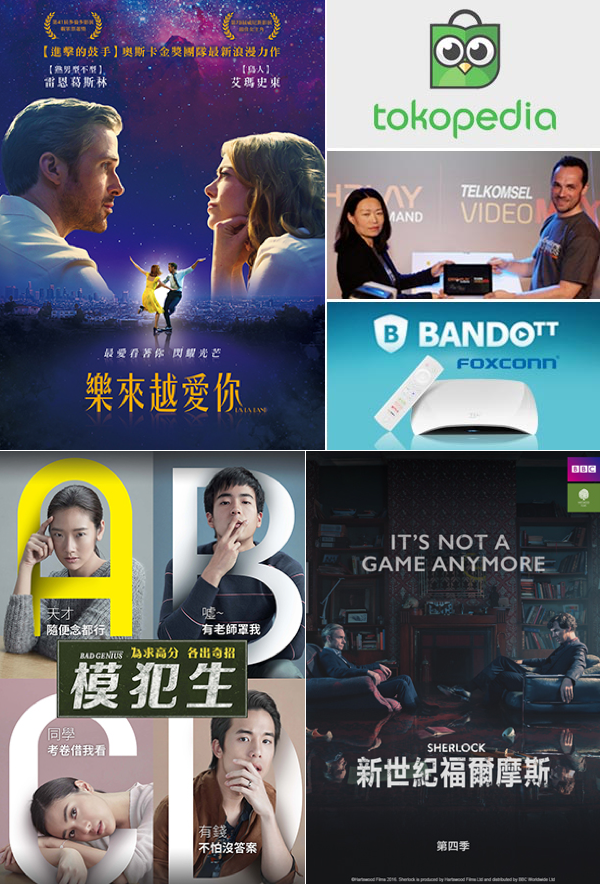 2017
DISTRIBUTION
Released 24 films theatrically in Taiwan including Academy Award and Golden Globe winner La La Land, Silence, Hitman's Bodyguard and Bad Genius, which generated higher box office receipts in Taiwan than in its domestic market, marking the highest-grossing Thai film in Taiwan ever on record.
DIGITAL
November
Announced partnership with T-Star, one of the leading 4G mobile operators in Taiwan, to provide CATCHPLAY+ as the exclusive digital movie content service for T-Star subscribers.
August
Announced a partnership with CNS, the second-largest MSO for pay TV services in Taiwan, to provide digital movie content for CNS' 1.2 million households exclusively.
April
Announced a partnership with Telkomsel, the largest mobile operator in Indonesia.
March
Launched a partnership with Tokopedia, one of the largest EC platforms in Indonesia.
January
Launched the service via FOXCONN's BANDOTT Set Top Box.
Distributed the BBC hit series Sherlock Season 4 exclusively for Taiwan, day and date with the UK.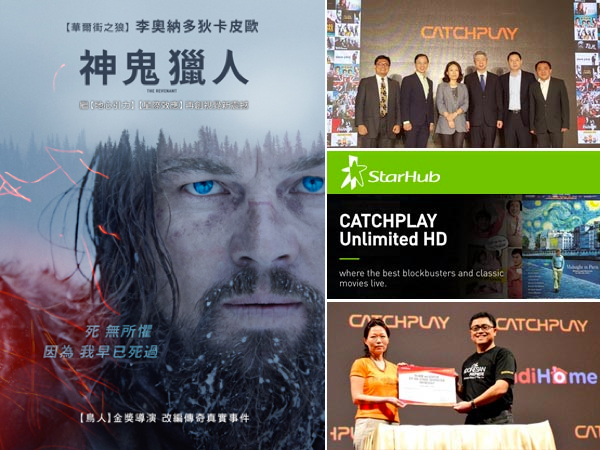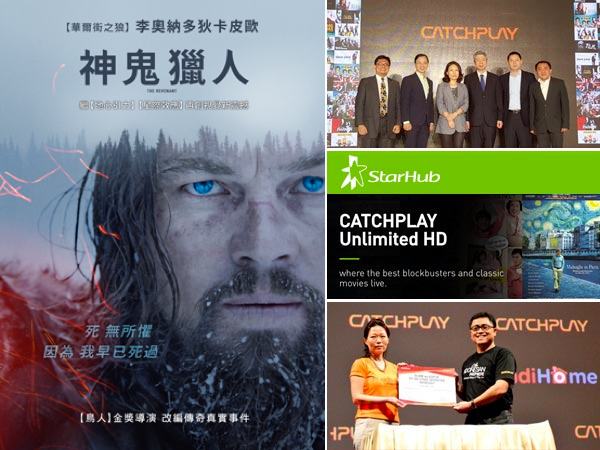 2016
DISTRIBUTION
Released 27 films including London Has Fallen, Assassin's Creed, Dirty Grandpa, The Handmaiden and CATCHPLAY invested film, Academy Award and Golden Globe winner The Revenant, a movie that grossed more than US$ 65 million in Taiwan, China, Hong Kong and Macau as distributed by CATCHPLAY and partners.
DIGITAL
September
CATCHPLAY+ started Direct to Consumer service in Indonesia.
August
CATCHPLAY+ started Direct to Consumer service in Singapore.
June
CATCHPLAY+ launched in Indonesia in collaboration with IndiHome, Telkom Indonesia as the first OTT VOD service to come on board the leading pay TV and broadband operator's hybrid Set Top Box.
CATCHPLAY+ launched the service in Singapore through partnership with StarHub, becoming the predominant movie content provider for the operator's pay TV and OTT platforms.
March
CATCHPLAY+ pilot launched in Taiwan.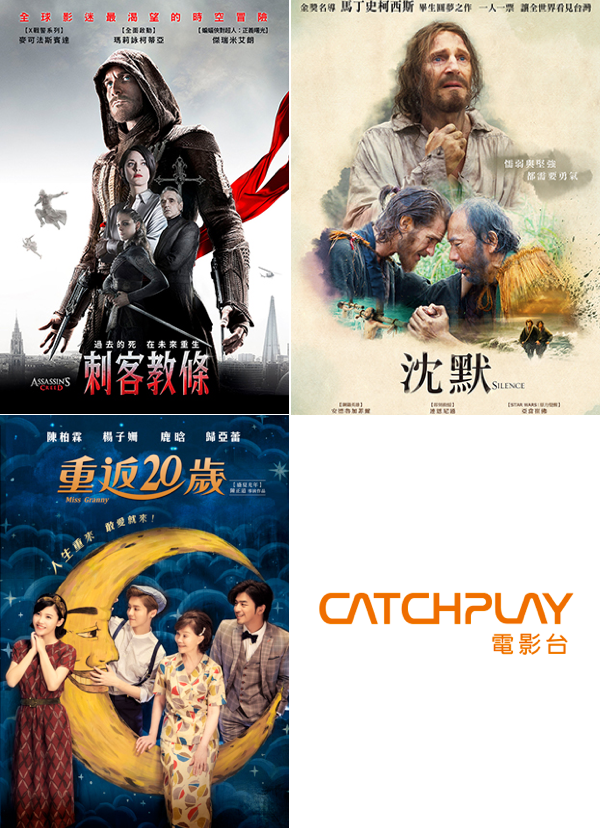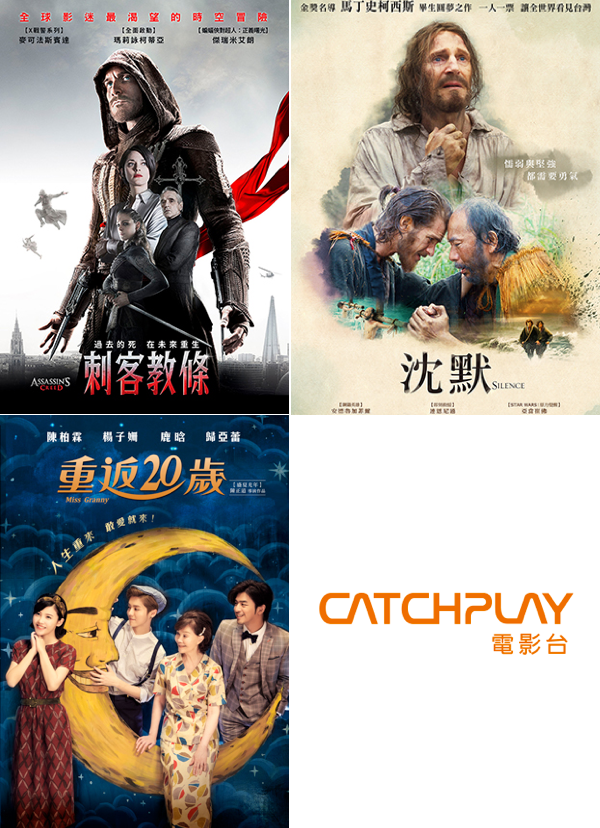 2015
DISTRIBUTION
Released 24 films theatrically, including Academy Award and Golden Globe winner Still Alice, Southpaw, Our Little Sister, Woman in Gold, Burnt, Secret in Their Eyes and 120 titles on DVD and digital platforms.
CO-PRODUCTION & INVESTMENTS
March
Co-financed and assisted director Martin Scorsese's shooting of his historical epic Silence in Taiwan, completed in 3.5 months and becoming the first international film to be shot entirely in Taiwan.
January
Announced a partnership deal to invest in New Regency's The Revenant, Assassin's Creed, and Splinter Cell, marking the first time a Taiwanese company has invested in a Hollywood studio production.
Co-produced 20 Once Again with CJ Entertainment, which grossed $380 million RMB in China.
LINEAR MOVIE CHANNEL
CATCHPLAY HD Movie Channel hit over 800,000 subscribers with Chunghua Telecom and Kbro.
DIGITAL
November
Signed a multi-year deal with FarEastone, one of the leading mobile operators in Taiwan, to include a CATCHPLAY branded section in its VOD service to provide CATCHPLAY's leading movie content for FET's subscribers.
October
Signed with major Hollywood studios including NBC Universal, Warner Bros. and Disney to provide their content for digital platforms in Taiwan and other upcoming Asian markets.
May
Established subsidiaries AsiaPlay Inc. and AsiaPlay Taiwan to develop CATCHPLAY+ across Asia.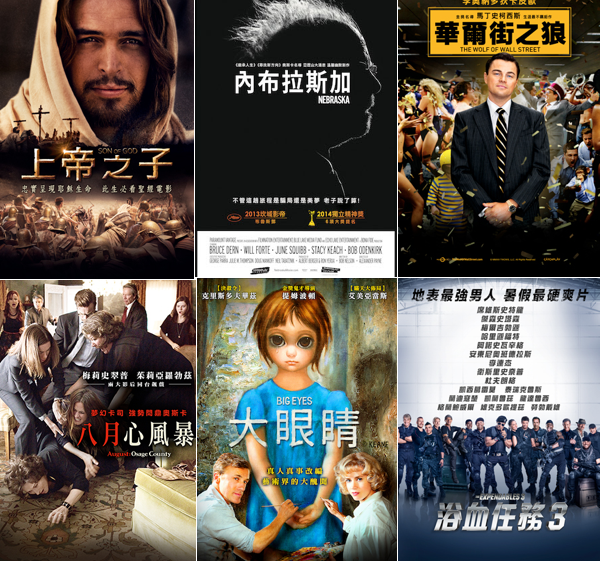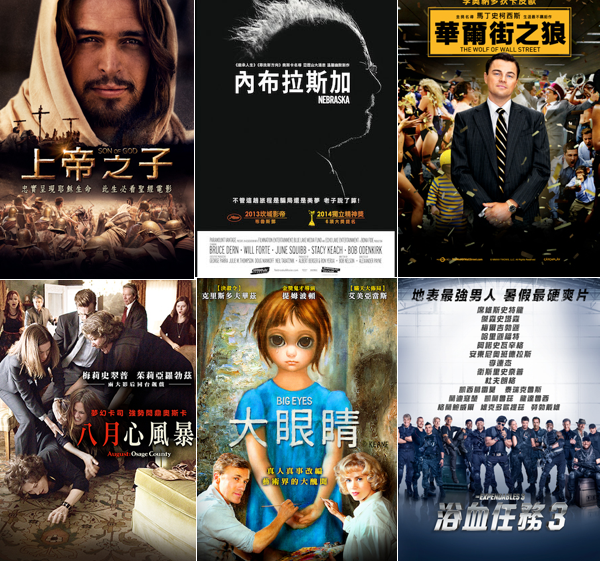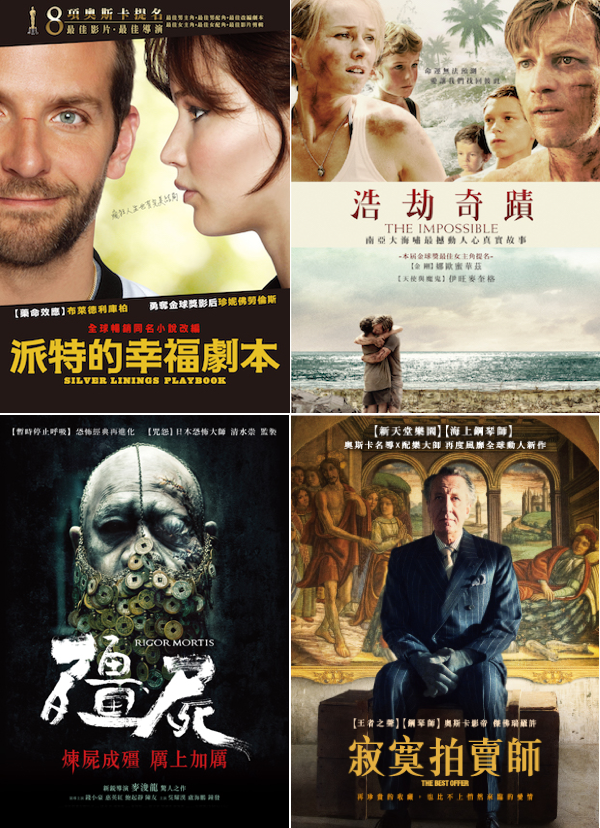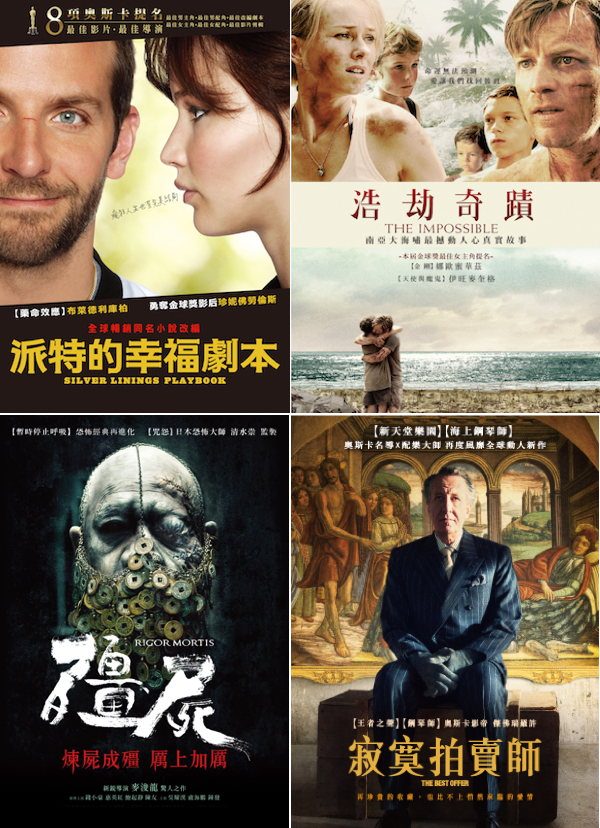 2013
DISTRIBUTION
Released 26 films theatrically in Taiwan including Academy Award and Golden Globe winner Silver Linings Playbook, The Impossible, The Best Offer and Golden Horse Awards nominated horror Rigor Mortis, which grossed NT$50 million in Taiwan.
LINEAR MOVIE CHANNEL
January
Launched CATCHPLAY HD Movie Channel on Chunghua Telecom's MOD service and Kbro's cable TV platform.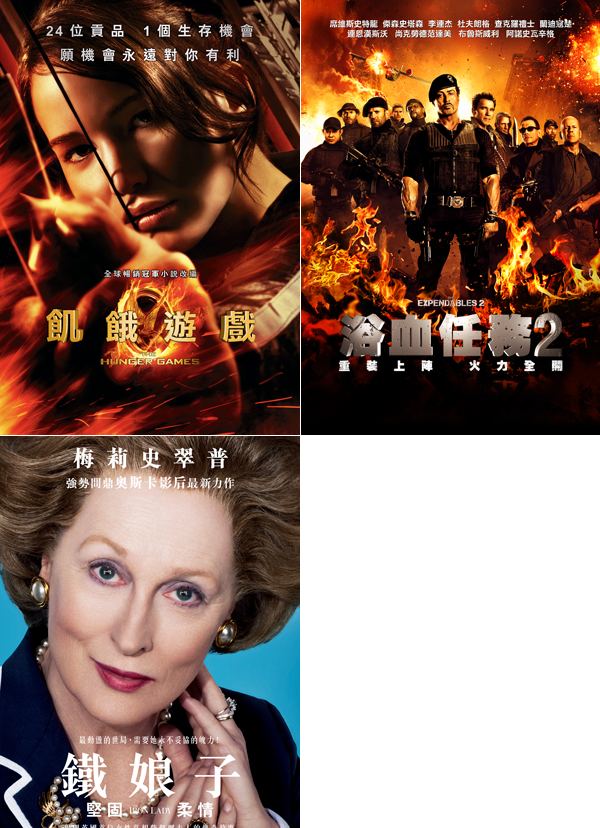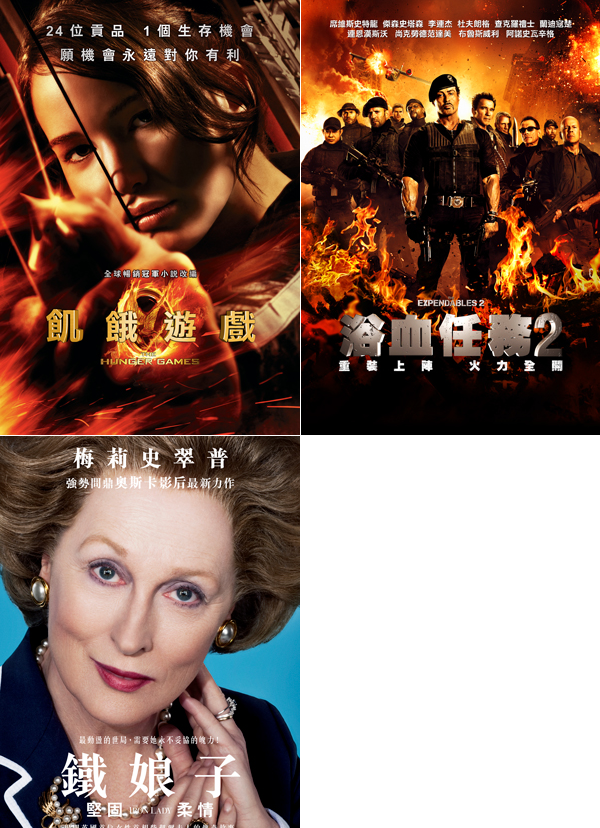 2012
Mr. Harvey Chang and Ms. Daphne Yang came on board at CATCHPLAY, with Mr. Chang as the Chairman and Ms. Yang as the Executive Director of the CATCHPLAY Group overseeing all business and operations.
DISTRIBUTION
Released 68 films theatrically including The Hunger Games, grossing NT$150 million in Taiwan, action blockbuster The Expendables 2 and award-winning films The Iron Lady, My Week with Marilyn and W.E..
DIGITAL
Offered preliminary VOD service for Samsung Smart TV.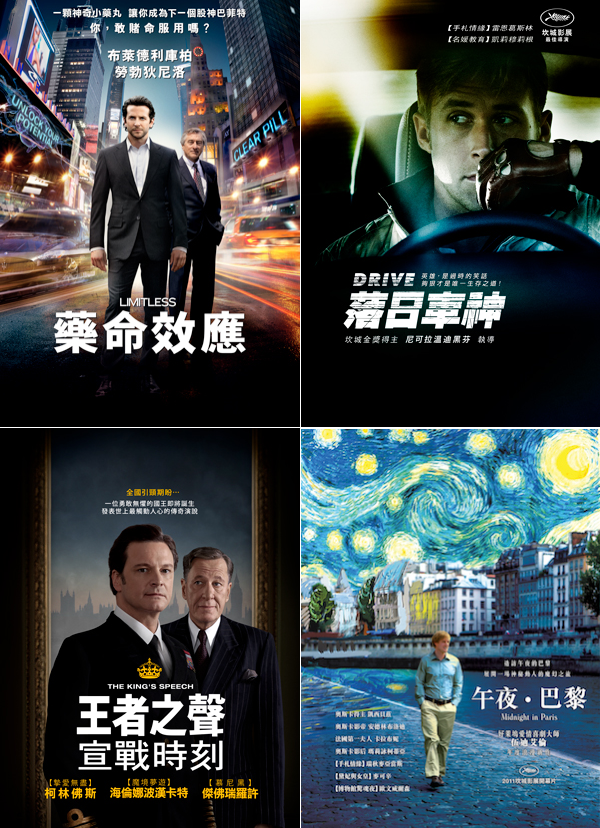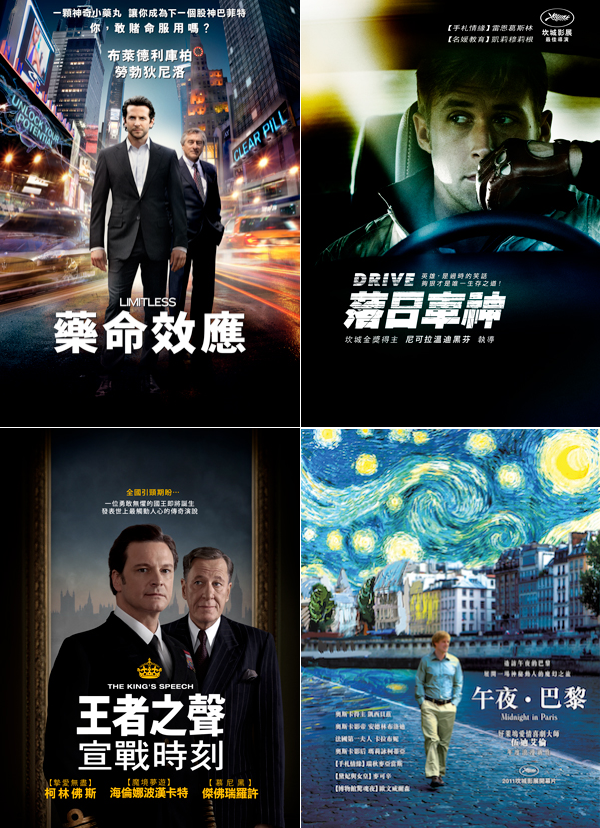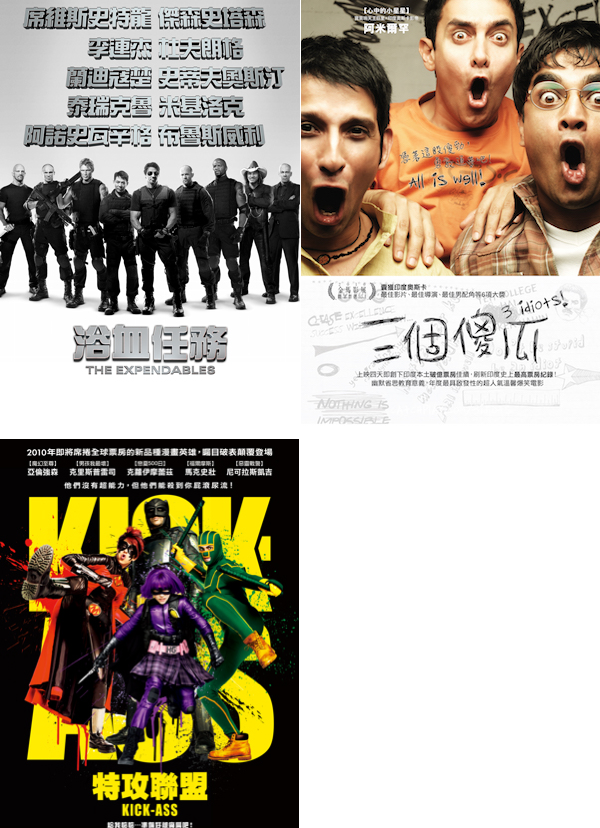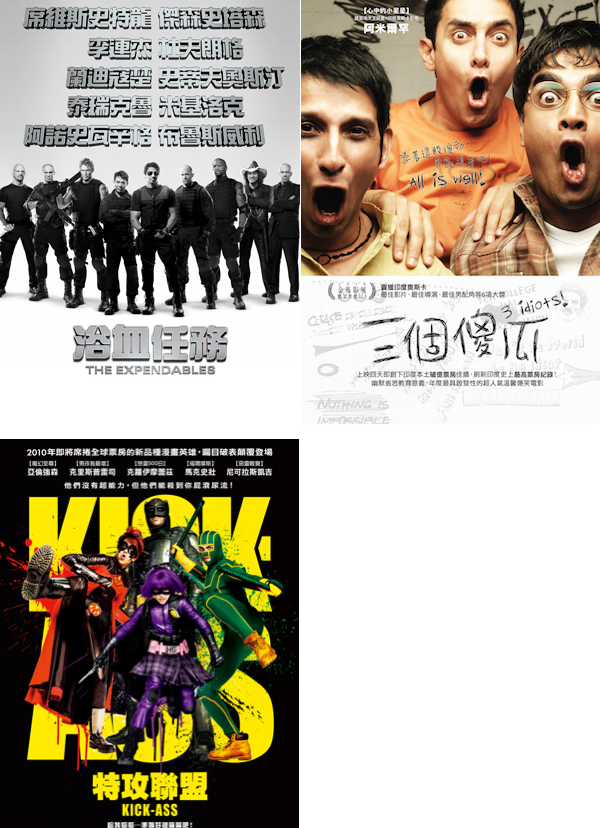 2010
DISTRIBUTION
Released 122 films theatrically including The Expendables, Red, Kick-Ass and Three Idiots, which went on to have the longest theatrical run in Taiwan in the last ten years and achieved the highest box office results for Indian films in Taiwan. Also distributed 160 titles on home videos.
DIGITAL
Started preliminary content licensing deals with KBro and CNS, the top two cable TV service providers in Taiwan.
2009
DISTRIBUTION
Released 45 films theatrically, including Two Lovers, Drag Me to Hell and 100 titles on home videos. Jointly produced Hesher, produced by and starring Academy Award winner Natalie Portman.
DIGITAL
Provided VOD content for Chunghua Telecom's MOD service.
2008
DISTRIBUTION
Released 12 films theatrically, including In the Name of the King: A Dungeon Siege Tale and 16 titles on home videos.
2007
CATCHPLAY was founded with Mr. Timothy Chen as the Chairman to focus on online gaming peripherals and online paid video. Launched the "NT$39 Online Rental" service.